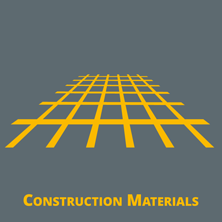 Construction Materials
Infrastructure · Hydraulic Construction · Delivery Service · Rental
Your Partner for Construction Materials
Construction materials represent one of our mainstay activities. We have earned a reputation for solid technical expertise and immediate product availability both on the coast and inland. Our competence extends from conventional fascines, piles and gabions to modern geotextiles.
Our customers appreciate the hands-on experience and expertise we have acquired as suppliers for various large-scale projects.
Availability Plus Flexibility and Speed
Construction materials are often needed in larger quantities. Of course, our customers plan ahead, but – especially when it comes to construction materials – circumstances can change and create unforeseen needs. The weather could be at fault or some other reason, but that makes no difference: Our job is to make sure that we always have the most important construction materials in stock and ready for immediate shipment.
Reliability You Can Count On
Customers have been relying upon us to supply materials for hydraulic construction and civil engineering projects for over 70 years. And that explains why our customers appreciate our experience. They know that they can count on us to think and act in their interest.
We always make a point of taking that important extra step in our work with public authorities, engineering offices, construction companies and other undertakings that use our products. We want our customers say: "You can count on them!" In every situation. Since 1947.