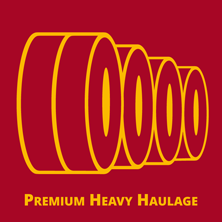 Premium Heavy Haulage
Uncomplicated · Reliable · Qualified Personnel
Premium Heavy Haulage THAT'S US.
At Your Service
When you work with Lonsdorfer's Premium Heavy Haulage Department, you benefit from the experience and expertise of exceptionally competent drivers and a fleet of over 50 Premium Heavy Haulage vehicles plus the backup support of industry professionals. We regularly transport Premium Heavy Haulage weighing up to 50 metric tons under cover throughout Europe! That means you can count on us to get you gearboxes, generators, machinery and other heavy or oversized components to any destination you choose – safely, reliably and in perfect condition. When it comes to the transport of Premium Heavy Haulage, we offer seamless service. For you, that means a no stress solution.
Our Mission
Our job is to use our experience and expertise to get heavy or oversized freight to the destinations our customers choose as quickly as possible. That's what our customers expect, and that's what we deliver. After all, we've got the resources it takes to organize and carry out heavy hauls throughout Europe – with a fleet of special-purpose vehicles and highly motivated drivers with years of hands-on experience behind the wheel.
It Didn't Start with a Horse and Cart
Keep both feet on the ground, take advantage of progress, and work hard. That was Peter Lonsdorfer's philosophy when he started the company back in 1945. So, our story didn't start out with a horse and cart, but with a modern truck. In 1986, Peter turned the company over to his son Werner. It was Werner who decided to market construction materials and offer services for wind turbines, and the company is still successfully active in both of these areas today. In December of 2015, Swedish entrepreneur Frederik Liljenqvist became the company's managing director and sole shareholder. Frederik Liljenqvist is committed to carrying on the tradition started by the Lonsdorfers – expansion & progress based on experience.
The Lonsdorfer story
Awarded BS OHSAS 18001:2007 Occupational H&S Management System
2015
Swedish businessman Fredrik Liljenqvist acquires the company
2015
The company's fleet is expanded to include its own pilot cars for heavy haulage
2014
First offshore oil change by Peter Lonsdorfer UK Ltd.
2013
20,000 oil changes on wind turbines
2012
Simplified custom procedures throughout Europe (Authorized Economic Operator status)
2011
Incorporation of Peter Lonsdorfer UK Ltd.
2009
Early implementation of new standards – DIN EN ISO 9001 for Quality Management and DIN EN ISO 14001 for Environmental Management
Major investments bring the company's fleet up to 36 tractors and 55 trailers
Depot partner of Naue GmbH (Leading manufacturer of geosynthetics)
2008
Implementation of further work safety standards (SCC** – Safety Certificate Contractor)
2006
Lonsdorfer expands into the areas of Premium Heavy Haulage services
2005
Certification as disposal center for the collection, transport and storage of used oil (Gearbox and hydraulic oil)
2002
Lonsdorfer starts to offer lubricants and services for wind turbines
1995
Peter's son Werner takes over the company
1986
Lonsdorfer establishes itself as a leading supplier of heating oil in northern Germany
1960
The company moves its headquarters location from Nordstrand to Husum
1955
Company expands in the areas of lumber and hydraulic materials
1947
Peter Lonsdorfer establishes a moving company under his name on the peninsula of Nordstrand (Northern Friesland)
1945